An innovative world through knowledge economy
Connecty.io is the first pair market dedicated to R&D using Blockchain Stellar. It works thanks to the Connecty token (CTY). A search engine optimizes the exchanges and makes it possible to get in contact with qualified interlocutors. Decentralized knowledge exchanges are secured, streamlined and simplified by Smart Contracts.
The Connecty Platform
Connecty.io is the first Knowledge Marketplace powered with an Artificial Intelligence Engine matching a simple question with those having the answers.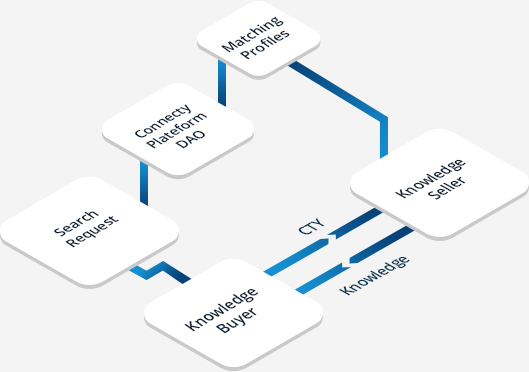 For everyone holding and seeking Knowledge, the platform offers a unique place to share, exchange and collaborate through an efficient token economy.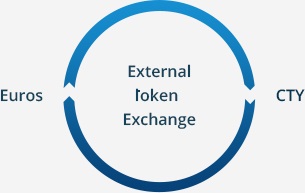 The Knowledge Market
Connecty.io addresses the external Research and Development flows market. A global market for knowledge purchases worth 134 billion dollars in 2015, or on average 7% of annual Research and Development expenditure.
World R&D Expenditures 1 926 Billion $*
R&D Outsourcing 7%

World R&D Outsourcing 134 Billion $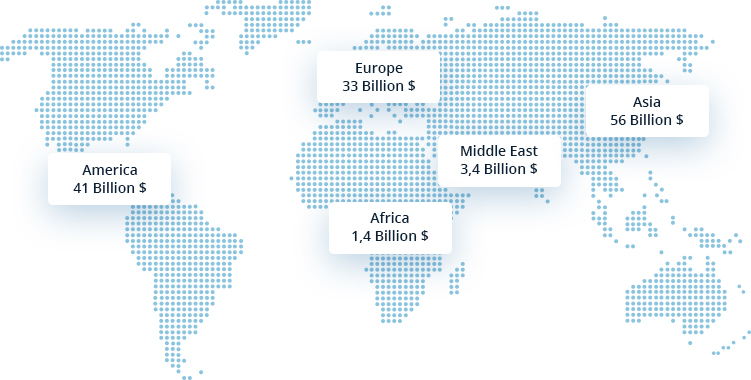 * Last data available UNESCO 2015
R&D Expenditures Outsourcing per continent
The Benefits of Blockchain
The blockchain provides a secure environment for transactions and contracting. By this way, you can focuse on your needs, your research and your partnerships, rather than to bothering and complex administrative tasks.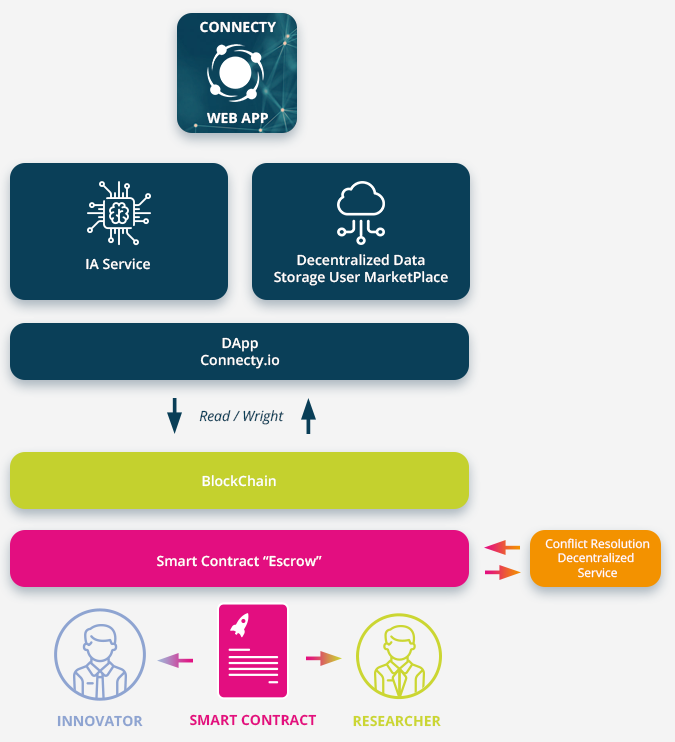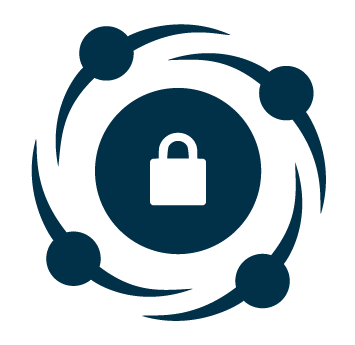 Security
Creation of a trusted secure environment as a knowledge and expertise place where the players of research and innovation can meet, share and discuss in broad daylight or under protection anonymity.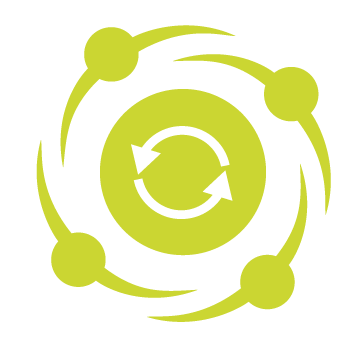 Decentralization
Globalisation et decentralisation of the knowledge economy. Wherever you are, whoever you are, if you have knowledge or expertise that interest someone, you could value and share it.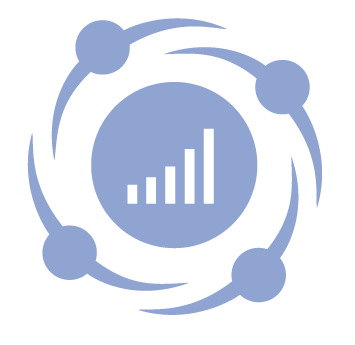 Fluidity
Fluidification of knowledge exchanges thanks to the possibility of microtransactions.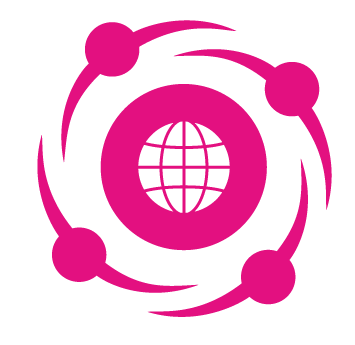 Circular economy
Implementation of a circular economy centered on the knowledge economy and open innovation thanks to the introduction of a new currency only dedicated to the exchange of knowledge and expertise.
Token CTY & ICO
Token Economics
Token name

Connecty
Ticker

CTY
Blockchain

Stellar
Token type

Utility token
Token standard

Stellar token
Type of supply

Fixed supply
Total supply

1 Billion CTY
ICO price

0.01 €
Accepted currency

XLM, BTC, ETH & Fiat
ICO Bonus
Exclusive sale
40%
Quantity available
40,000,000 CTY
Private sale
30%
Quantity available
120,000,000 CTY
ICO
30%
Quantity available
240,000,000 CTY
The token CTY is supported by the Stellar Blockchain. CTY is the Knowledge CryptoCurrency of the Connecty.io platform. It will be necessary to use CTY to buy services and knowledge on our Marketplace. During the ICO, the token will be directly delivered to the investors throught the SmartContract and they will be frozen until the end of the ICO. The token don't sold at the end of ICO will be kept as reserve. There won't be any new emission of token after the end of the ICO.
Token repartition & use of funds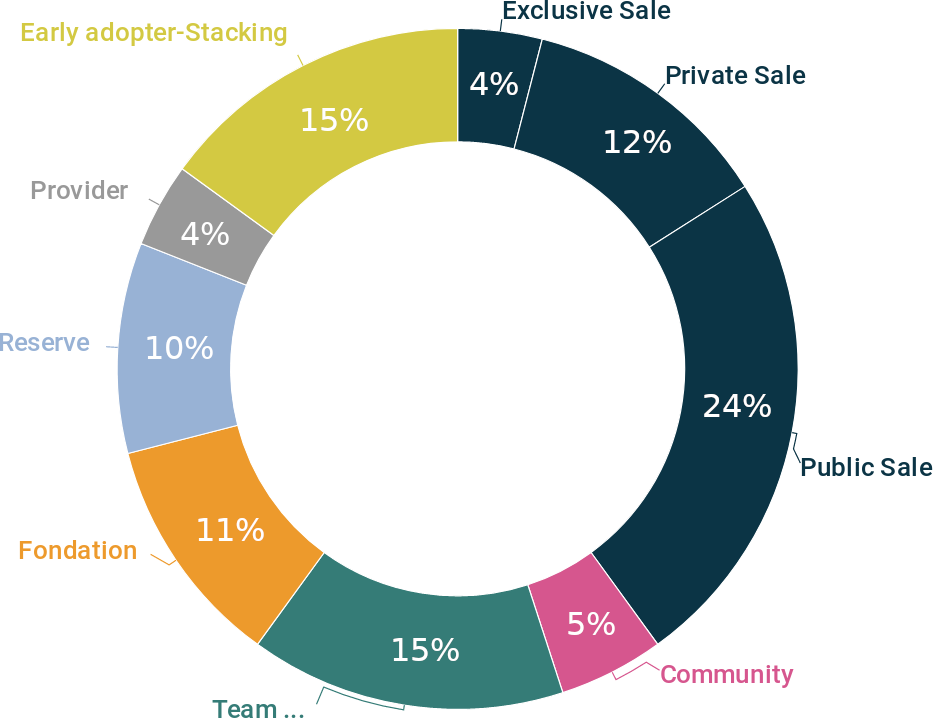 Vesting
Tokens sold to ICO are released at the end of the ICO for 25% of the investor portfolio. The rest is released at a rate of 25% (vesting) every 6 months. At 18 months, investors have 100% of their chips invested.
Burn
A token / burn destruction mechanism (the chips will disappear forever) will reduce the total supply in circulation. Thus, Connecty will devote 20% of its profits to the market and will destroy up to 50% of the total supply managed according to the terms defined in the white paper.
Use of funds raised
30% for technical development of the platform
30% for commercial development and marketing
20% for research and development
20% for support activities (legal, administrative aspects, ...)